Posted Monday. February 12, 2018 — 21:14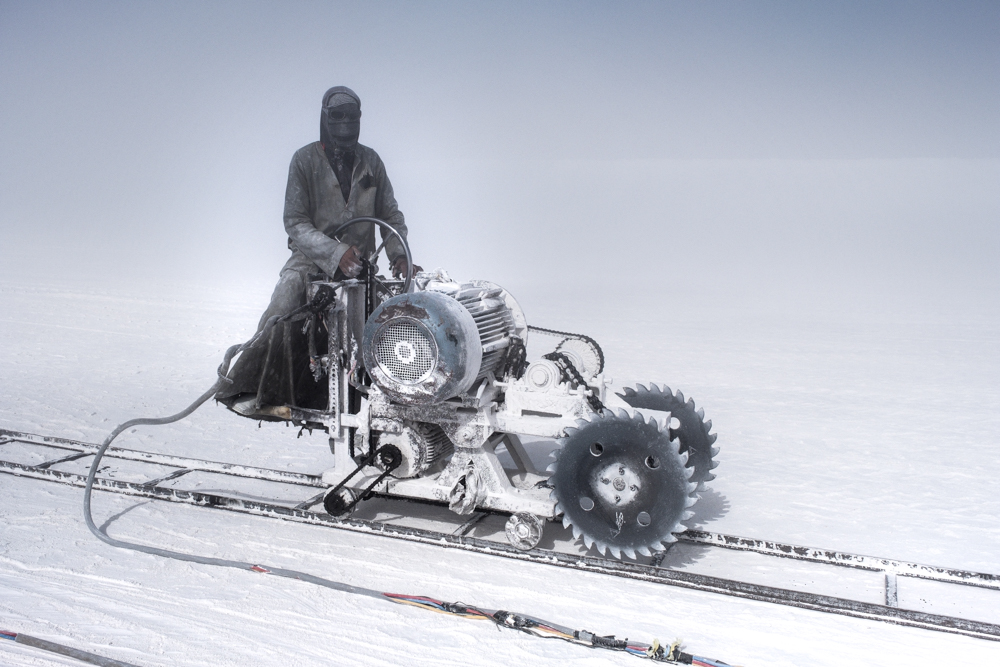 THE WHITE HELL - MINYA, EGYPT
4:30 am. Minibuses spill men in djellaba by tens. They challenge each other, gesture and kill time by eating falafels and
sipping tea. In less than an hour, the crossroad is crowded with people. All expect the same thing: the arrival of the pick-ups
that will take them to the limestone quarries. In Al-Minya, it is the main source of work. Almost all men of working age in the
region go there 6 days out of 7. The road is a chaotic maze and by night, it is very cold. Some protect themselves from the
wind under tarpaulins, others are wrapped in blankets. The men pile up in the back of the vehicles and huddle together for
30 to 45 minutes.
The arrival on the quarries is surreal. A purplish light dyes the sky and the immaculate white landscapes that surround us.
Sparks splash the night. At the first light of day, men sharpen the circular saws. This is the beginning of a well-honed ballet
where everyone knows his place and what he has to do. Set up the rails and shift them after each cut, maneuver the
machines, move the bricks out of the ground and start again. The air is unbreathable and the light is blinding. Clouds of
particles envelop the ghostly silhouettes. At each inspiration, the silica rushes into the lungs of the workers. To limit the
ravages and the lack of a protective mask, they try to protect themselves with scarves and cloth hoods. But, this does not
stop the disease: pulmonary embolism and cataracts, among others, are very common.
Men know it. The health risks and the accidents are numerous on the careers. All it takes is a saw that slips or a blade
fragment that breaks loose to lacerate the flesh and cause irreparable damage. The bare wires snaking on the ground are
causing many electrocutions. And to top it all, most of these workers are uninsured. Career owners can not get the licenses
that would guarantee their employees a pension and health insurance. The army only delivers sparingly the famous sesames.
To get it, owners have to abide by very strict rules and pay exorbitant taxes, often much higher than the real profit of these
companies. For 5 or 6 euros per day and despite the risks, men in the region continue to produce limestone and to expose
themselves to the worst.To see the entire set of pictures, click HERE.
(FR)
4h30 du matin. Des minibus déversent des hommes en djellaba par dizaines. Ils s'interpellent, gesticulent et tuent le temps
en dévorant des falafels et en sirotant du thé. En moins d'une heure, le carrefour est noir de monde. Tous attendent la même
chose: l'arrivée des pick-ups qui les amèneront sur les carrières de calcaire. A Al-Minya, c'est la source principale de travail.
Presque tous les hommes en âge de travailler dans la région s'y rendent 6 jours sur 7. La route est chaotique et labyrinthique.
Et le jour n'étant pas encore levé, il fait très froid. Certains se protègent du vent sous des bâches, d'autres s'emmaillotent
dans des couvertures. Les hommes s'entassent à l'arrière des véhicules et se serrent les uns contre les autres pour 30 à 45
minutes de route.
L'arrivée sur les carrières est surréaliste. Une lumière violacée teinte le ciel et les paysages blancs immaculés qui nous
entourent. Des étincelles éclaboussent la nuit. Aux premières lueurs du jour, les hommes affutent les scies circulaires. C'est
l'amorce d'un ballet bien rodé où chacun à sa place et sait ce qu'il a à faire. Mettre en place les rails et les décaler au fur et
à mesure des découpes, manoeuvrer les machines, écarter les briques désolidarisées du sol et recommencer à nouveau.
L'air est irrespirable et la lumière aveuglante. Des nuages de particules enveloppent les silhouettes fantomatiques. A chaque
inspiration, le silice s'engouffre dans les poumons des ouvriers. Pour limiter les ravages et à défaut de masque de protection,
ils tentent de se protéger avec des foulards et des cagoules en tissu. Mais, cela n'arrête pas la maladie: embolie pulmonaire
et cataracte, entre autres, sont monnaies courantes.
Les hommes le savent. Les risques pour la santé et les accidents sont nombreux sur les carrières. Il suffit d'une scie qui
dérape ou d'un éclat de lame qui se détache pour lacérer la chair et causer des dommages irréparables. Les fils électriques
à nu serpentant sur le sol sont à l'origine de nombreuses électrocutions. Et pour couronner le tout, la plupart de ces ouvriers
ne sont pas assurés. Les propriétaires des carrières n'arrivent pas à obtenir les licences qui permettrait de garantir à leurs
employés une retraite et une assurance maladie. L'armée ne délivre qu'au compte-goutte les fameux sésames. Il faut se plier
à des règles très strictes et payer des taxes exorbitantes, souvent bien plus élevées que le bénéfice réel de ces entreprises.
Pour 5 ou 6 euros par jour et malgré les risques, les hommes de la région continuent donc à produire du calcaire et à
s'exposer au pire. Pour voir l'intégralité de la série, cliquez ICI.